Configuring Jodo Chat
Jodo offers Chat communications as an in-built module,  allowing customers from across the world to interact with dispersed multi-device, multi-lingual teams.
All chat conversations are recorded and stored in Jodo.
Chat transcripts can also be generated and delivered to customers at end of the Chat conversation.
Jodo is a multi-lingual platform and Jodo Chat is a multi-lingual module, customers can select the language of their choice and Jodo will connect them with business users based on the language selected.
Chat configuration window enables the administrator to configure and assign multiple chat servers as well as configure Integration of the chat with Jodo applications or external applications
Once Chat campaigns are configured and assigned to teams, the team members can start using the chat campaigns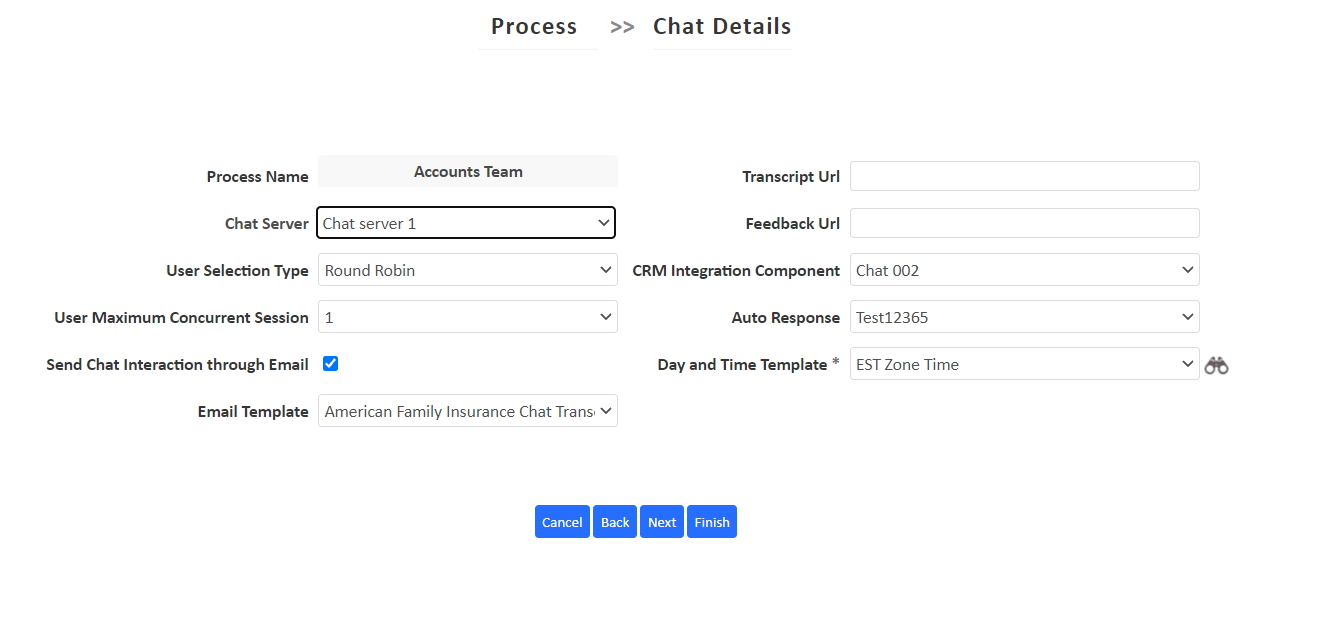 Field
Description
Chat server
select Chat Server that has to be assigned to the campaign.
Chat Routing logic (User Selection Type)

Chat conversations can be routed to Jodo users in multiple ways:

Lowest Traffic: User with minimum customers assigned.

Round-Robin: Chats are distributed to users in round-robin (cyclical) manner.

Skill-based: Chats are distributed based on matching of skills as per the campaign. (location, language-based selection are defined as skills in Jodo and on this selection, chat routing and user-selection will be based on the language and geography) e.g. if a customer has selected Spanish as their language, Jodo will route the chat to a business user that is skilled in Spanish language)

Max Idle: Chat conversations will be allocated to business who has been ideal for the maximum time.

Concurrent Sessions

Jodo Chat module allows you to assign multiple chat sessions to a business user (Each chat conversation appears in a separate tab within the Jodo application and Jodo users can navigate across multiple chat conversations simultaneously)

You can assign and restrict the number of concurrent chat sessions assigned to business users here. For Eg:- if concurrent sessions are set to 4, then each business user can be assigned 4 customer Chat conversations simultaneously.

Chat Transcript delivery
This will enable the delivery of the chat conversation transcript at the end of the chat conversation. The Transcripts are delivered via email to customers on their pre-defined email addresses or by capturing of a new email address for chat transcript delivery.
Select Email Workflow
You can Email Template assigned to the Chat Module which will be used to send out Emails while sending Emails to customer.
Transcript URL
URL which will help to agent what should be use in email / Chat with customer or FAQ for process and help information.
Feedback URL
URL defined to capture customers feedback about the agents conversation and handling the call
CRM Integration Component
It is use to send / communicate with 3rd party CRM and JODO Cloud eg. To generate Help desk ticket number.
Auto Response
In case of non-availability of Agents during the non-working time, standard auto response can be sent to customers on the Web Site when they select the chat option.
Day and Time Template
Definitions of time window when the agents will available for the process, Templates can be associated which are ore-created using the template option.